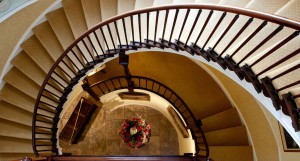 One of the features of the house is the main staircase, which was made from acajou mahogany which Philip Janvrin's ships brought over from South America.
The curtain pelmets in the drawing room reproduce pediments over the doors. These were added sometime after 1894.
Architrave bosses to the doors date from the Regency period. Similar designs are seen on many other local houses of that time.
The three marble fireplaces on the ground floor, which replaced elaborate wooden over-mantels between 1894 and 1910, all portray a different classical theme.
The present kitchens were added in 1936 by Charles Le Quesne Ltd. Before that there were extensive kitchens in the basement.
The top storey was used as staff quarters. The butler and his wife lived in the larger end room and took responsibility for housekeeping and cooking.